If you're feeling frustrated about the lack of definition in your abdominal muscles, thighs, or buttocks, Emsculpt NEO may be the solution you've been looking for. At Evergreen Laser and Medspa, we are committed to helping our clients look and feel their best. Whether you are looking to burn fat or simply become more toned, Emsulpt NEO might be the solution you are looking for.
The latest generation of Emsculpt technology, Emsculpt NEO combines muscle building with fat reduction to achieve impressive body contouring. For more information about this incredible service, reach out to us today! Located Evergreen Park, Illinois, Evergreen Laser is committed to serving you! So, ask us about Emsculpt NEO today.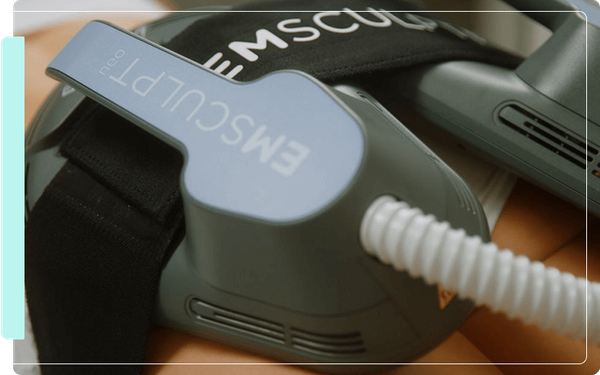 About Emsculpt NEO
Emsculpt NEO is a non-invasive FDA-approved body-shaping treatment. This state-of-the-art process includes muscular stimulation, radiofrequency signals, and skin tightening to create a toned and fat-burning look. It is completely painless, and requires no downtime. Because Emsculpt not only works to burn fat but encourages your body to do so, the results look very natural.
Unlike other body contouring options offered (CoolSculpting Elite and ultrasonic cavitation), Emsculpt NEO tones muscles along with addressing excess fat. Other treatments like Cryolipolysis and fat cavitation cannot build or tone muscle tissue whereas Emsculpt NEO can. To get the amount of muscle improvement that a single Emsculpt NEO session offers, a person would need to do 20,000 crunches or 20,000 squats. If you are hoping to get a beautiful, toned look without spending hours in the gym, Emsculpt NEO may be able to provide you the results you are looking for.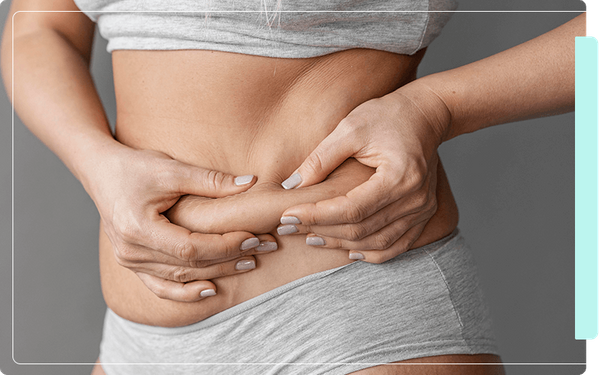 Which areas of the body can Emsculpt NEO treat?
This non-surgical treatment is able to effectively contour and strengthen numerous areas of the body. Emsculpt NEO can be used to tone and shape the thighs, abdomen, triceps, buttocks, calves, obliques, lower back, hamstrings, biceps, and flanks. Whether you're looking to get a flatter stomach and washboard abs, tackle "bingo wings" hanging from your upper arms, define your legs, or get the sculpted butt you've been dreaming of, Evergreen Laser and Medspa is here to help you look and feel your best.
Note that Emsculpt NEO is specifically for body shaping and is not suitable for use in contouring the neck, chin, or other areas of the face.
How Does Emsculpt NEO Work?
As alluded to above, Emsculpt NEO combines High Intensity Focus Electromagnetic pulses and radiofrequency heating to trigger muscular growth and burning off fat. Emsculpt NEO heats up fat cells to the point of being burned off and causes up to 20,000 muscle contractions over a 30 minute span. These two combined aspects result in the toned look you are looking for. This can result in muscle thickening of 24%, 30% fat reduction, and a shrink in waist circumference of 4-6 cm. This is an incredibly effective treatment and provides results you have to see to believe. If you are looking to grow muscle while toning your body and burning fat, reach out to us today.
How Many Treatments are Needed?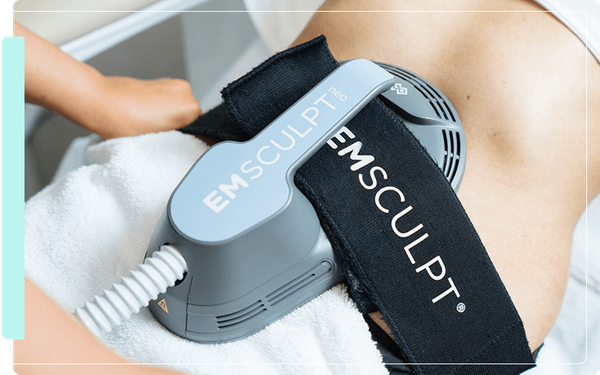 At Evergreen Laser and Medspa, we recommend starting your treatment process with one 30 minute treatment every week for four weeks. Once the initial treatments are completed, we typically advise that our clients get one maintenance treatment every 3-6 months. But, because this treatment does not force you to miss work or take any rest time, it's an incredibly welcoming experience. For more information about Emsculpt NEO and how you can benefit from these treatments, get in touch with us today.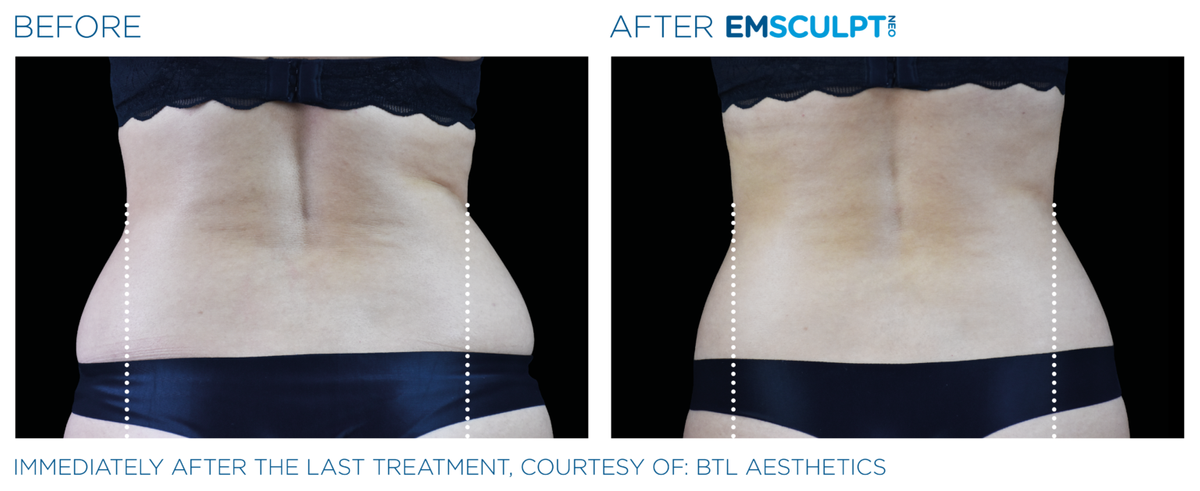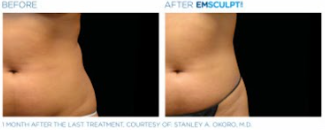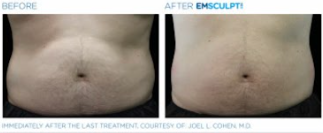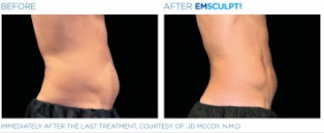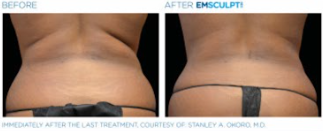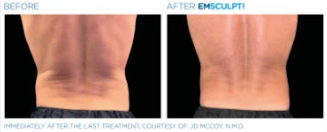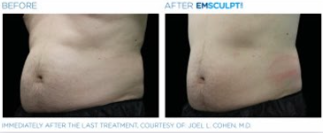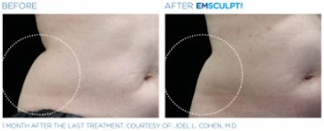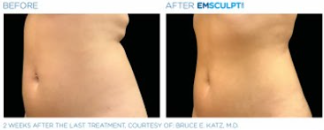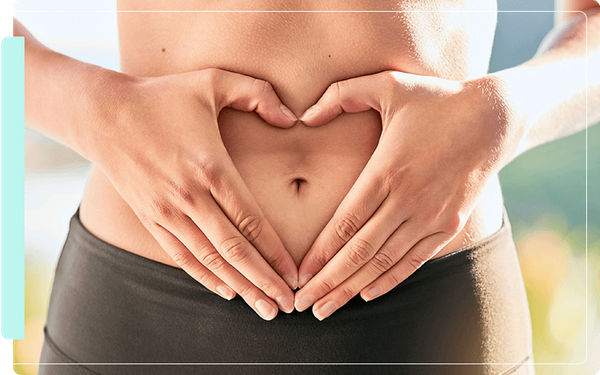 What to Do Before and After Your Treatment
Because NEO utilizes heat and muscle contraction to help you become more toned, it's important to come to your appointment hydrated. This helps you to stay comfortable during the treatment and it helps your body to maximize the results from Emsculpt NEO.
After the treatment, it's important to adopt a healthy lifestyle to prevent yourself from gaining weight. So, while Emsculpt NEO gives you a huge jump start on body toning, regular exercise and a consistent and healthy diet are two huge factors in preventing weight gain after your treatments.
Whether you are looking to tone your stomach, thighs, calves, or any other area of your body, Emsculpt NEO can help you look and feel your best no matter the occasion. If you are interested in having Emsculpt NEO done on your body, reach out to us today. We are committed to providing some of the best services in Illinois and will do everything we can to take care of you and your needs. If you have any questions about Emsculp NEO or our medspa, contact us today! We look forward to hearing from you.
*If you would like to find out more about Emsculpt NEO in Chicago and what it can do for you, contact Evergreen Laser today for your appointment. Our certified professionals will be happy to create a customized treatment program for you. We also offer a number of other services, including laser hair removal and soothing facials. You can reach us at (708) 741-4140.